As virtualization increases efficiency, federal agencies are also looking for ways to leverage cloud technology when adapting to new and increasing workload demands. Presidio Federal supports federal IT organizations by delivering a scalable data center infrastructure and evolving traditional siloed approach to enterprise computing, networking, and storage technologies.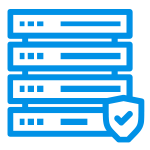 Data Protection
Multi-pronged approach to protect data through secure, immutable, and encrypted methods.
Compute
Improve component efficiency, compliance, and availability to ensure effective operations.
Storage
Manage data while maximizing application performance and preparing for the growth of IT processes, applications, and underlying infrastructure.
Converged/Hyperconverged
Unite computing, networking, storage access, and virtualization by integrating low-latency network fabric with enterprise servers.
Hybrid Cloud
Create scalable and tailored technologies to ensure data security and regulatory compliance and address the gap between on-premises and public cloud workloads.
Networking
The backbone of any data Center! Your critical data, workloads, and applications stay securely connected with efficiency across hybrid cloud, data center and to the edge.